LiveU delivers the complete solution to wireless remote production with precision measurement. This allows you to reduce costs by producing live events from a centralized studio control room instead of on-site production and satellite trucks.
Cover more events with simplified logistics and reduced costs.
Truly Wireless and Reliable Streaming
Completely wireless synchronization of multiple live video sources with LiveU Precision Timing™
No LAN or high speed connectivity needed onsite
Go live from anywhere regardless of the infrastructure
No more miles of camera cables to run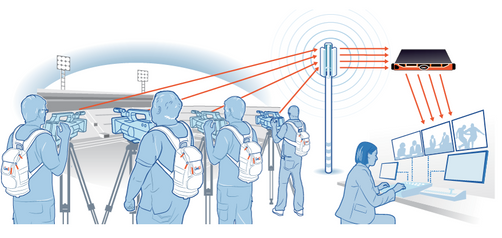 Tremendous Cost Savings
No SAT truck or SAT uplink/downlink time
No onsite production truck or location needed
Reduce onsite personnel travel and equipment shipping expenses

The LiveU Advantage
LiveU Precision Timing™ for near-frame accurate switching
Extremely low delay – better than SAT
HD quality live video
Cover more events and produce more frequent live streams
Simplified logistics and planning
We can produce several events in one day from one studio using the same crew –  allowing us to manage high-volume, ESPN-style productions.
LiveU allows us to broadcast sports like track and field or away games that would not have been possible from a cost standpoint.
LiveU resulted in the largest overall savings – we were able to use 5 remote cameras without a problem.